INFORMATION COMMUNICATION TECHNOLOGY (THEORY)
Paper 1
July 2016
THE KENYA NATIONAL EXAMINATIONS COUNCIL
DIPLOMA IN SALES AND MARKETING
DIPLOMA IN SUPPLY CHAIN MANAGEMENT
DIPLOMA IN BUSINESS MANAGEMENT
DIPLOMA IN COOPERATIVE MANAGEMENT
DIPLOMA IN HUMAN RESOURCE MANAGEMENT
DIPLOMA IN ROAD TRANSPORT MANAGEMENT
DIPLOMA IN TOURISM MANAGEMENT
DIPLOMA IN INFORMATION SCIENCE
DIPLOMA IN ENTREPRENEURSHIP
DIPLOMA IN TOUR GUIDING MANAGEMENT
DIPLOMA IN PETROLEUM MANAGEMENT
DIPLOMA IN PROJECT MANAGEMENT
DIPLOMA IN INVESTMENT MANAGEMENT
DIPLOMA IN MARITIME TRANSPORT LOGISTICS
DIPLOMA IN HUMAN RESOURCE MANAGEMENT
DIPLOMA IN DISASTER MANAGEMENT
DIPLOMA IN PRINT JOURNALISM
DIPLOMA IN BROADCAST JOURNALISM
DIPLOMA IN DIGITAL JOURNALISM
MODULE I
INFORMATION COMMUNICATION TECHNOLOGY I (THEORY)
1. (a) State four examples of utility software used in computers. (2 marks)
(b) (i) Differentiate between hard disk and CD ROM. (3 marks)
(ii) Describe the circumstance under which each of the following types of input devices is most appropriate:
I. Flatbed scanner; (2 marks)
II. MICR. (2 marks)
(c) The management of Faod Petroleum Company Ltd. has decided to procure computers for human resources department. Explain three uses of the computers in the department. (6 marks)
2. (a) State one advantage and one disadvantage of laptop over desktop computers. (2 marks)
(b) (i) Outline three advantages of off-the-shelf computer software. (3 marks)
(ii) Anne intends to create a memo using a word processing program. Describe three ways she could use to create the document. (6 marks)
(c) Jose would like to carry out the following tasks using the computer keyboard. Assuming a windows environment, state the appropriate keys for each task: (4 marks)
(i) activate the numeric pad;
(ii) Toggle between the upper and lower cases;
(iii) Activate user help;
(iv) Activate the programs menu.
3. (a) Outline two examples of transaction files and one example of reference file likely to be found in sales departments. (3 marks)
(b) Differentiate between data and information as used in computers. (4 marks)
(c) (i) Explain two uses of spreadsheet programs. (4 marks)
(ii) With the aid of a diagram, explain the typical parts of a magnetic disk storage surface. (4 marks)
4. (a) (i) Explain the term computer virus. (2 marks)
(ii) Faith has procured a laptop for her studies. Outline three measures she could put in place to safeguard the laptop from virus infection. (3 marks)
(b) Write the general syntax for the following spreadsheet functions:
(i) Sumif; (2 marks)
(ii) vlookup. (2 marks)
(c) Ferori Tours Ltd. intends to install local area networks (LANs) in order to improve the efficiency of its services to its esteemed clients. Describe three network devices required, other than computers. (6 marks)
5. (a) Outline three measures that could be put in place to address computer ergonomics in learning institutions. (3 marks)
(b) Explain the function of each of the following features in the design of a relational database system:
(i) Primary key; (2 marks)
(ii) Field; (2 marks)
(iii) Relationship. (2 marks)
(c) Figure 1 shows typical features used in Internet programs. Explain the function of the features labeled (i), (ii) and (iii) (6 marks)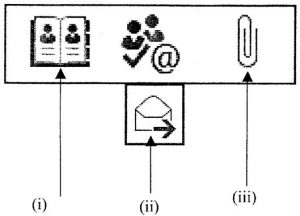 Figure I
6. (a) With the aid of illustrations, distinguish between superscript and subscript as used in word processing programs. (4 marks)
(b) The manager at Nato transporters has decided to use mesh topology on the LAN. Explain two disadvantages of the network topology. (3 marks)
(c) (i) Outline four typical views found in presentation programs. (4 marks)
(ii) Henry would like to create a pie chart in a presentation slide. Describe the procedure he could use to achieve his objective. (4 marks)
(Visited 87 times, 1 visits today)