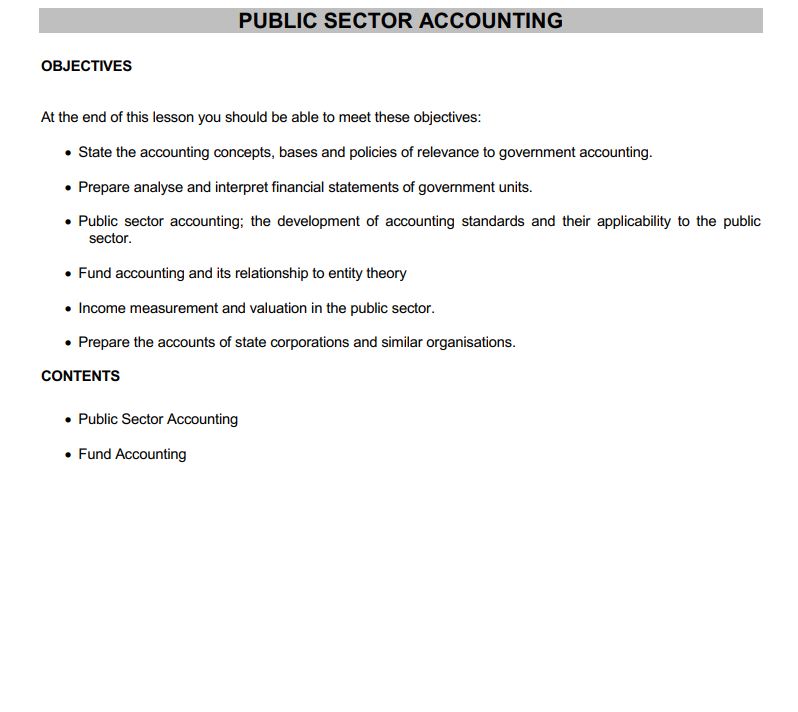 OBJECTIVES
At the end of this lesson you should be able to meet these objectives:
State the accounting concepts, bases and policies of relevance to government accounting.
Prepare analyse and interpret financial statements of government units.
Public sector accounting; the development of accounting standards and their applicability to the public sector.
Fund accounting and its relationship to entity theory
Income measurement and valuation in the public sector.
Prepare the accounts of state corporations and similar organisations.
CONTENTS
Content Covered:
Definition of Public Sector Accounting
Objectives of Public Sector Accounting
Users of Public Sector Accounting Information
The Importance of Public Sector Accounting to the Users
Constitutional and Regulatory Framework of Public Sector Accounting
Concepts and Principles Applicable To Public Sector Accounting
Bases of Public Sector Accounting
Comparison between Government Accounting and Private Sector Accounting
Bases of accounting: Cash basis, Modified cash basis, Full accruals basis and Modified accruals basis
Sources and Uses of Government Revenue
(Visited 656 times, 1 visits today)