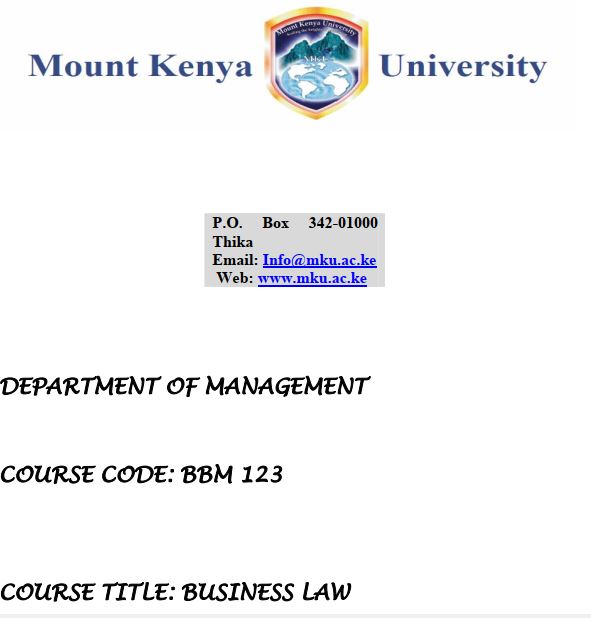 C O U R S E O U T L I N E
UNIT CODE: BBM 123
UNIT NAME: BUSINESS LAW
Purpose of the course
To prepare students for such aspects of law as will touch their business operations so that they can play a practical role in the field of commercial enterprise in the community and nation as a whole.
Course objectives
By the end of the course unit, the students should be able to:-
Appreciate the legal context in which business law applies.
Comprehend but simplify account of rules relating to the formation, content and enforcement of contracts.
Illustrate how law applies to business content.
Appreciate the significance of business law and its contribution to the development and
success of business.
INTRODUCTION TO LAW

The meaning and nature of law
Functions of law
Classification of law,
sources of law
LAW OF PERSONS
Introduction
Natural persons and artificial persons
Rights and obligations of both natural persons and artificial persons
LAW OF TORT
Function of the law of torts
Malice nature of tortuous liability
The fault principal
Distinction between tort, crime and breach of contract.
General defenses
Specific torts i.e. Trespass, nuisance, négligence and defamation.
CONTRACT OF EMPLOYMENT
Nature of the contract of employment
Suspension of the contract of employment
Termination of the contract of employment working time and rest,
Types of leaves
Equality and pay issues
CONTRACT LAW
Nature of the contract
Essentials of a valid contract classification or types of contracts
Formation of the contract
Contractual capacity
Terms of contract
Vitiating elements in a contact
Discharge of a contract
Remedies for a breach of contract
LAW OF AGENCY
Definition classes of agents
Creation of agency
Duties of agents
Rights of agents and principals
Termination of agency
THE SALE OF GOOD ACT
Contract of sale of goods
Creation and capacity to buy and sell
form of contract
Subject matter of the contract
Conditions and warranties
Doctrine of caveat emptor
Transfer of property in goods
Transfer of title in goods
Performance of the contract
Rights of unpaid seller
Rights of the buyer
Auction sale
HIRE PURCHASE LAW
Creation of hire purchase agreement
Formalities of hire purchase
Registration
Protection of the tenure
Recovery of possession by the owner
NEGOTIABLE INSTRUMENTS
Native and present day use
of negotiable instruments.
Negotiable instruments
Nature and present day use of negotiable instruments.
Essential requirements for validity bills of exchange negotiation and endorsement holder in due
course liability of the parties
Discharge of the bill
Cheques and promissory notes
(Visited 898 times, 5 visits today)